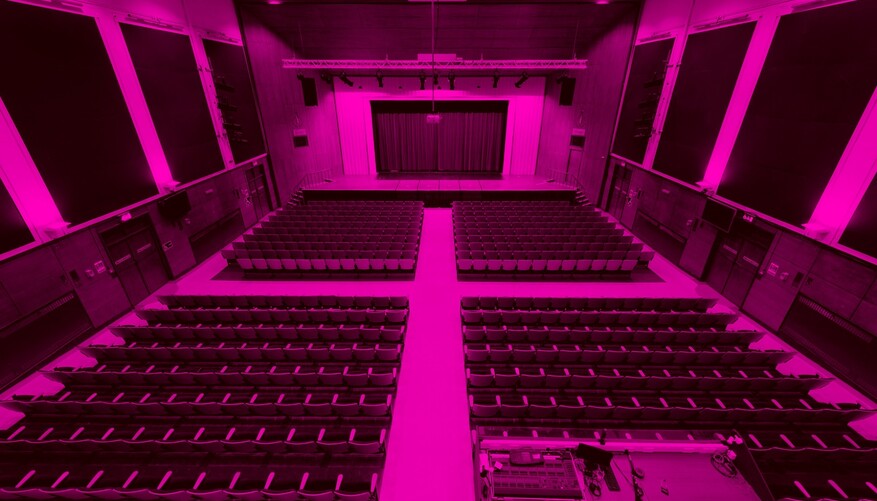 Access
It's really important that everyone can enjoy a great, relaxing night out with us.
We'll try to give as much information as possible on this page but, if your question isn't answered then please get in touch by clicking here!

---
The HYNT Scheme.
Hynt is a scheme that works in Wales to provide specific access information to help plan your trip. We're part of the Hynt scheme as we believe it offers the best practice in fair ticketing policy and accessibility. Cardholders are entitled to a free ticket for a personal assistant or carer.
Click here find out about eligibility or click here to apply.

---
Moving around our venue
Wrexham Glyndwr University Entrance
To enter the building at our main entrance at the front of Wrexham Glyndwr University there is a ramped access with a hand or there are 6 steps with a handrail. The front doors are 2 manual 'pull' doors and 2 automatic doors.

William Aston Hall Entrance
Once inside the foyer there are 4 steps with handrails up to manual pull doors to enter the auditorium. There is also a single person lift situated beside the steps.
Wheelchair Access
There is an easy to use lift located beside the steps to the entrance to William Aston Hall. In the front car park there are 5 extra width parking spaces. The nearest accessible toilet is approx. 30 meters away from the William Aston Hall. There are ramped fire exits either side of the auditorium.
Toilets
There are male, female and mixed toilets located approx. 10m from the William Aston Hall.

---
Inside William Aston Hall
Hearing Loop
There is currently no hearing loop available at William Aston Hall.
Aisles
There are aisles down the sides (approx 1m wide) and center (1.5m wide) of the hall.
Seats
There are 8 wheelchair spaces with companion seat located on Row J – if you need any assistance booking seats then please contact our box office.

Seat Sizes
Width – approx 45cm.
Depth – approx 30cm.
Average length legroom – Approx 30cm
Seats with extra legroom can be found on rows C, K and S.
Interval Drinks
To avoid standing in queues, you can pre-order your drinks in advance.
Download the app: www.preoday.com